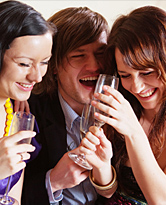 As an event organiser (whether formal or informal), it is very easy to start doubting your ability and the attractiveness of your event. Thoughts of guests being bored, the food being cold and guest speakers not pitching start to creep in, leaving you to feel insecure and unsure about your event. Another major spirit-breaker is if previous similar events were not well attended or enjoyed. But, being positive and enthusiastic about the affair is a key part of establishing its welcoming, warm ambience and, ultimately, the guests' enjoyment of the occasion.
The following guidelines are, if used effectively, the secrets to successful, enjoyable functions:
Understand that delegates and guests do actually enjoy attending conferences, seminars, product launches, gala dinners, office parties and so on. They see the value of the information and enjoy the food, wine and company. They like getting dressed up. They thrive on the networking opportunities. Your event gives them the valuable opportunity of doing all of this. Recognise the value in your event and you are far more likely to exude that enthusiasm and get others equally excited.
Establish an agenda or programme that states specific times and what the attendees can look forward to. This will assure them that there is a time limit and will tempt them as they see the attractive features that they do not want to miss out on. Interestingly, morning seminars are preferable while appreciation events are more popular in the afternoons (after work). If possible, no meetings or brainstorming sessions should be conducted on a Friday. Respecting these needs and desires will ensure that you get the maximum number of positive replies to your invitations.
Have a reputation for starting and ending any meeting or presentation on time. This will give your invitees the confidence that they can trust your agenda.
Use a venue that is appealing (for its aesthetics, technology and accessibility). It should either be close to the office (if the event is to take place immediately after work hours) or near to where most of the delegates / guests live.
People will enjoy an event that is attended by others of their calibre or profile so that it will be sociable and ideal for networking. So, when compiling a guest list, keep this factor in mind and invite similar sorts of people.
Start sending invitations out as soon as possible so that people can free up their calendars. Remind everyone closer to the time. If you do not yet have the details, but know on which date the event will be held, send out a preliminary notice requesting that those who wish to come save the date and await their formal invitation, which is to follow at a later stage. If there are some important guests that you would definitely like at your function, call them personally and extend your invitation to them.
Start a habit of sending "thank you" notes, minutes and updates to all those who attended each event. This will help them to keep a record of the details of the occasion and will also confirm your respect and gratitude towards them. In future, they will not only remember you better, but be more inclined to attend another one of your functions.
Photo Courtesy of She Knows